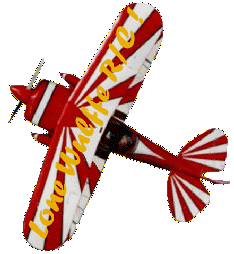 What's New!
April 11
Both combat planes completed - check out Combat page!
April 15
New project - ISC giant-scale ARC Staudacher - check out Projects page!
April 18
New links added on Links page
September 15
Added new planes to Hangar page

Here we are at our winter/spring flying field - Jupes is on the left and Pilsner on the right. Planes, from left to right are: Hangar Nine Piper Cub, Airmadillo Trainer 60, Airmadillo Trainer 60, and a Great Planes PT-60 Trainer. This photo was taken in the spring of '98.

Please Sign Our Guestbook


View Our Guestbook

Interested in linking to us? Please use one of our banners!

440 x 40 banner

468 x 60 banner
EMAIL US


Site Number 104
[ Next Site | Skip next Site | Previous Site | Skip Previous site | List Sites | Home ]

Click on the graphic to vote for this
page as a Starting Point Hot Site


©1999 by Jupes and Pilsner
Last Updated September 15, 1999